Growing up in a small semi-detached home, the living space was definitely cozy. But this meant that our garden space was also limited. So why have a garden in the first place?
Benefits of Plants inside and outside the Home
There are so many benefits to having a plant inside and outside your home. One of the most important benefits to surrounding yourself with plants is that improve the air quality around you. This is especially true inside the home. Research from NASA found that indoor plants can effectively remove up to 87 % of the toxins in the air in a 24-hour period. If you're curious NASA found these 12 plants to be the best ones to have in your home.
That's not all! A study from the University of Agriculture in Norway showed that indoor plants were effective at reducing the severity of cold-related symptoms by more than 30%. This makes sense! If you're home sick, a dust and toxin-free home is definitely better for you.
You may have heard this one before, but having plants around you boosts your mood. How can you feel stressed and anxious when you've got a beautiful succulent on your work desk? A study from Washington State University looked at the effect of plant-filled rooms on blood pressure levels after taking a stress-inducing test. The researchers found that those exposed to plants experienced a four-point drop in their blood pressure levels!
Lastly, plants have been shown to have a positive effect on your brain. People with indoor plants boast better memory, concentration, productivity and creativity. A study from the University of Exter that having plants in the workspace boosted staff well-being by up to 47%!
Small-Space Gardening Techniques
These benefits are certainly attractive, but what if you don't have the space for a garden? Try these 7 do-it-yourself projects that will help you take your gardening to the next level and save space at the same time.
Pallet Gardening
This pallet garden project is a great way to beautify your backyard especially if you've got a dull chain link fence. This project makes use of wooden shipping skids or pallets which are often trashed after use. So this is a great way to reclaim and make a small-space garden!
I managed to get some pallets from the local nursery that I often buy my seeds from. Other places you may find pallets are pet supply stores, furniture store, hardware stores and on Craigslist. One of my friends managed to get three pallets for free online, but always check with local businesses first if they're willing to part with their pallets for free or at a low cost.
Table Garden
Some of my favorite plants to have are succulents. They're low maintenance, do well in the sun, and don't need to be watered. And to boot they're pretty! This table garden is a beautiful way to grow and show off these pretty plants.
Like the last project, you can make this using inexpensive (or even free) shipping pallets. I recommend starting out with a coffee table size garden like this one. If you've got more space, try this full-size table project that is sure to impress your guests this summer!
Window Boxes
This was my first small-space garden hack for my childhood garden and something you've probably come across many times. While you can find window boxes at your local hardware and garden stores, try making your own perfectly fitted window planter. It's so rewarding to have full control over how your garden looks and grows!
Succulent Shutters
Here's another project that makes use of versatile and low maintenance succulents. This unique shutter garden involves taking shutters (either reclaimed or store-bought) and attaching weed-cloth pockets to the slats. These will be your hidden planters. My favorite part about this small space garden hack is that it's completely mobile and can be placed wherever you prefer. I'll definitely be trying this out this summer!
Trellis Gardening
Expansive vines growing along a trellis is a timeless classic gardening technique. But did you know that you can use a trellis to hang your garden too? This simple, inexpensive but beautiful solution can be wall-mounted like this project, or simply propped up against the wall like in this DIY trellis garden.
Stairway Garden
Possibly one of the most ingenious ways to save space with your garden is this vertical planter. It does require a bit of handy work so be sure to have some extra hands to help when you're making this. It's recommended that you screw the planters to the steps so that they can't get blown by the wind or pushed by a mischievous squirrel.
Hanging Jars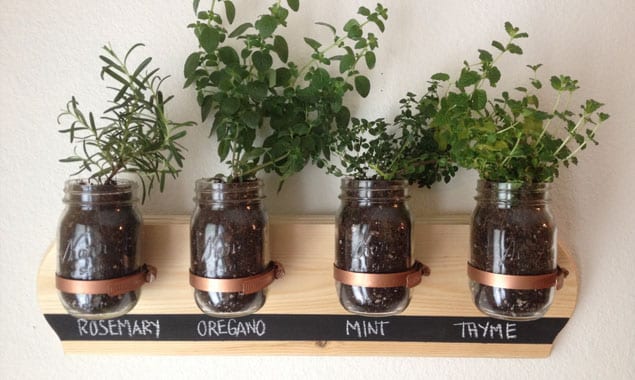 A couple of years ago we bulk ordered mason jars for my sister's rustic-style wedding. They made for beautiful centerpieces and containers, but after the wedding we struggled to figure out uses for them. Jams and sauces were the obvious choice, but you can only make so much jam. Luckily, my handyman brother-in-law saw this as an opportunity to start an herb garden.
Try out this DIY mason jar herb garden in your home today!
Hanging Garden
This simple and easy to assemble hanging garden is a neat way to save space. Find some braided polyester rope, two screws, and some baskets at your local craft or hardware store and you're ready to start assembling your garden! Hang this basket garden in a spot that's shielded from the wind and watch your plants grow!
Sources
http://www.popsugar.com/home/Small-Space-Gardening-DIYs-37046339#photo-37046339
http://www.healthline.com/health/importance-plants-home
http://easyverticalgardening.com/vertical-succulent-garden-using-a-shutter/
http://www.abeautifulmess.com/2012/07/pallet-vertical-garden.html
http://helpfulhomemade.com/diy-vertical-planter-garden/
http://utahgardenblogs.com/?p=561
http://camillestyles.com/uncategorized/transformed-mason-jar-herb-garden/
http://www.doublescribble.net/images/www.my-city-garden.com/wp-content/uploads/2014/04/Stair-vertical-planter.jpg
http://www.exeter.ac.uk/news/research/title_306119_en.html
Image Sources
http://abeautifulmess.typepad.com/.a/6a00d8358081ff69e20167688c79b7970b-popup
https://www.flickr.com/photos/faroutflora/5784766157/sizes/l/in/set-72157626733037257/
http://farm6.static.flickr.com/5179/5389314546_a90f7aabbc_b.jpg
https://sticksanddirt.files.wordpress.com/2012/10/window-box-21.jpg
https://s-media-cache-ak0.pinimg.com/736x/a6/7c/05/a67c05dde116b809b160ef49f94df6b2.jpg
http://honestcooking.com/wp-content/uploads/2014/05/GiftGuide-8.jpg
http://abeautifulmess.typepad.com/.a/6a00d8358081ff69e20168ebcc0ab5970c-popup
http://3.bp.blogspot.com/-Ao7sQTu5aqI/Tc3VQ3g_VII/AAAAAAAAFJY/eKBFu2AYXyY/s1600/DSC_0606.JPG
http://www.my-city-garden.com/wp-content/uploads/2014/04/Stair-vertical-planter.jpg
http://www.home-dzine.co.za/garden/images/table-4.jpg
http://camillestyles.com/wp-content/uploads/2011/12/herbs1.jpg