Spaghetti Squash Hash Browns Recipe (Vegan and Gluten-Free)
So excited, y'all! I love discovering new ways to use up extra cooked veggies and these Spaghetti Squash Hash Browns are just the ticket for a quick and easy side dish.
When me and my fella were first dating, one of the things he loved was my homemade breakfasts. I would do a proper English fry-up complete with bacon, over easy eggs, hot buttered toast and, my secret weapon, delicious, crispy hash browns. He was mine from the first bite!
One thing he doesn't love however, is spaghetti squash, dammit. It's so good and I love everything about it that I just do not understand how you can't. But, I'm trying to learn tolerance.
This is how I end up with half a cooked spaghetti squash all the time. Say I'm making a sauce, the man will have pasta, I'll have spaghetti squash. But, I'm human and can only consume so much squash in one sitting. When the idea struck about the hash browns I was so excited to try them out. My potato version features grated shreds and it dawned on me how similar the shredded squash was. I did a quick Pinterest browse and a ton of results came back. Nothing's original anymore, right?
My strategy was to wing it and see what happened if I used only the squash and oil in the pan. I season the spaghetti squash when I cook it (tutorial–>here) so I didn't bother adding anything else. (And yes, my skillet is white. It's newish and I think I hate it? )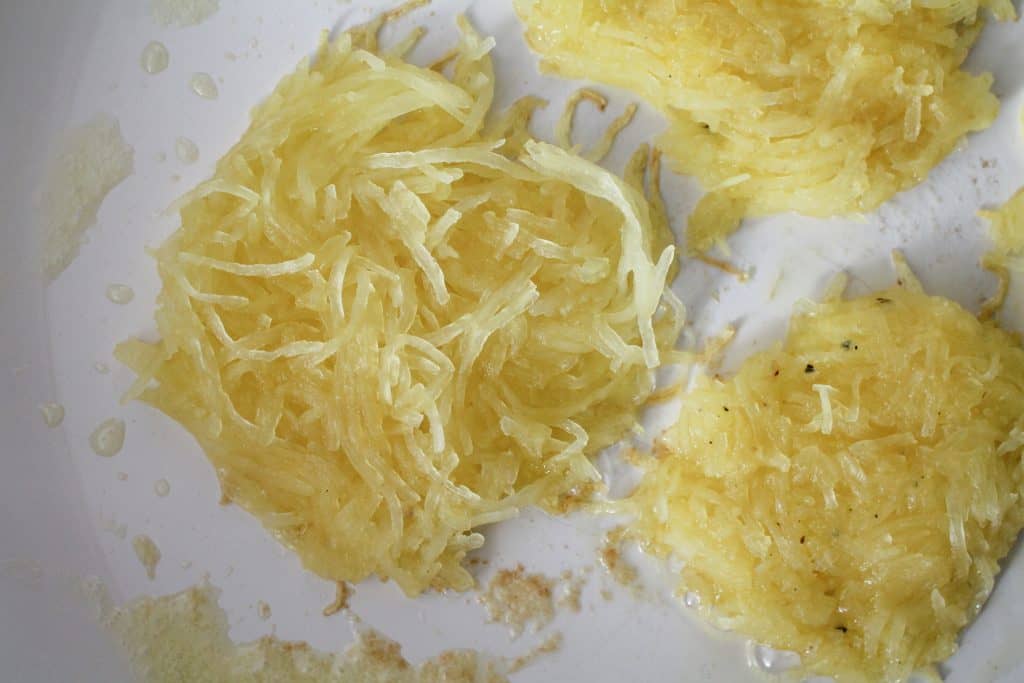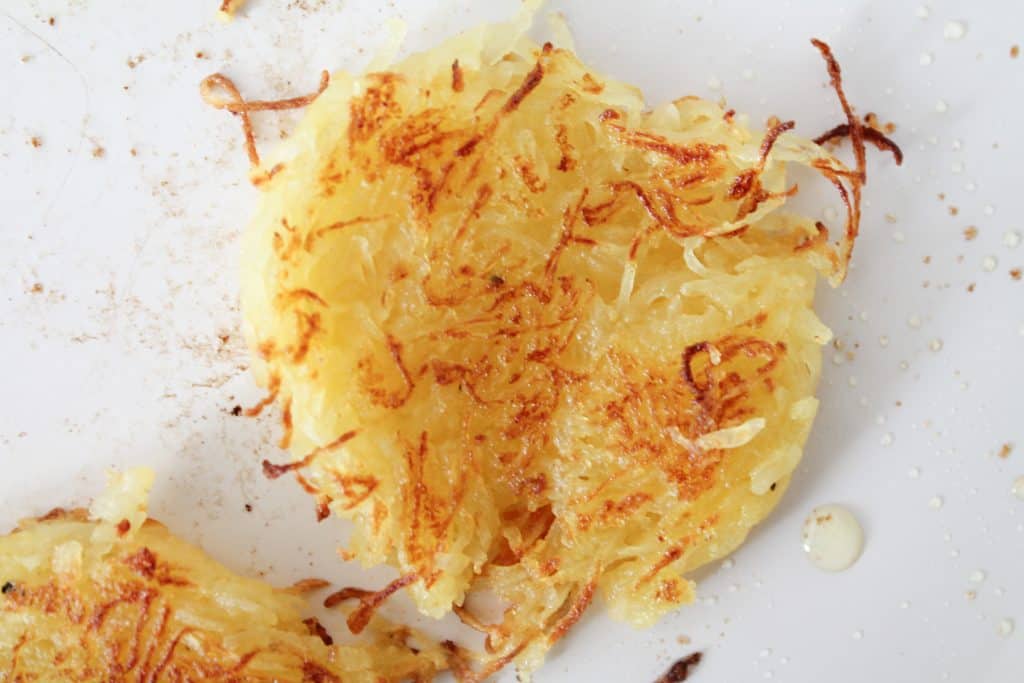 I am super thrilled to report they worked. A tad fragile, but super delicious. A dream with eggs. I had two over easy and a generous side of these Spaghetti Squash Hash Browns as a quick lunch and was happy and satisfied.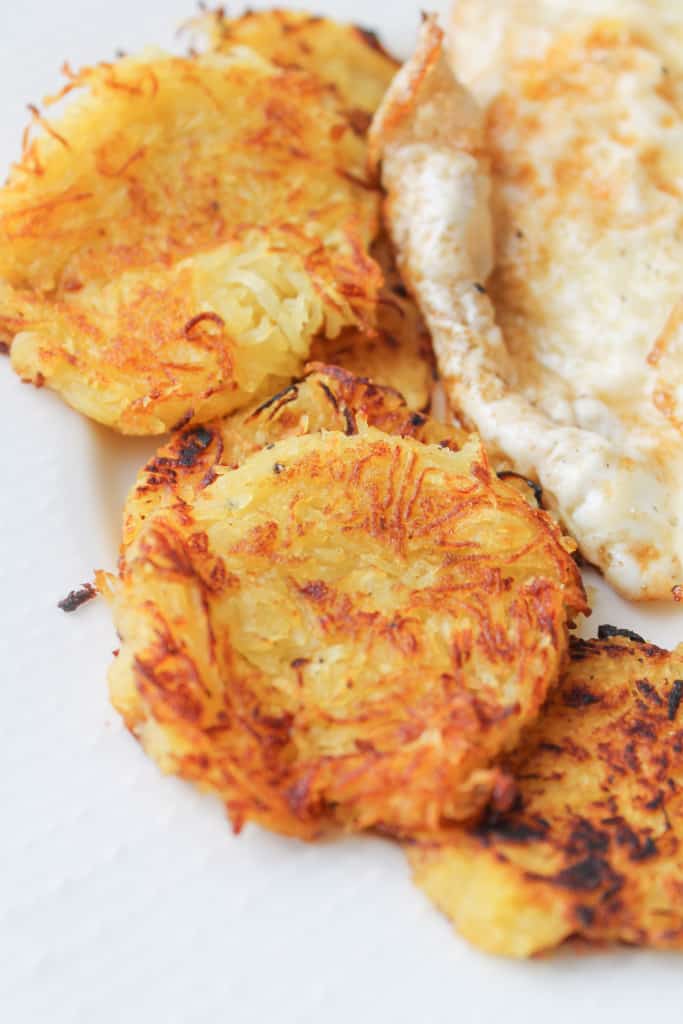 Try these spaghetti squash hash browns for sure the next time you find yourself with an abundance of leftover squash. So easy and super tasty.
Spaghetti Squash Hash Browns – Vegan & Gluten Free
2 cups cooked & shredded spaghetti squash (about 1/2 small cooked squash)
1 tbsp. oil (I used coconut oil)
Instructions
Heat the oil in a large non stick skillet over medium heat
Press the water out of the squash with paper towels
Form little patties (2 tablespoons or so) by pressing the squash firmly between your palms
Place the patties gently on the warmed skillet and let cook for 5-7 minutes per side. Only flip these once if possible to get the nice browned effect
Transfer the spaghetti squash hash browns to paper towels to drain, then serve warm
Click for the Nutritional Stats
Article originally published on TheHonourSystem.com republished with permission
A Quick Note from Our Founder
Have you been curious about losing weight eating Bacon and Butter? You're not alone!
Going "Keto" has helped so many of my friends drop weight and keep it off.
And it's the perfect time to try it because right now you can get a free copy of a brand new cookbook called The Bacon and Butter Cookbook
This cookbook is jampacked with 148 delicious ketogenic recipes that will help you burn fat like crazy. Even stubborn belly and thigh fat won't stand a chance because your body will have NO CHOICE but to burn that fat for fuel!
If you've struggled to get rid of stubborn fat, you owe it to yourself to test-drive the keto diet and see how effective it really is. It'll be easy once you have this free cookbook…
HURRY, this FREE offer won't last long!
If there's one thing I love to do, it's eat!
Here, at the
Honour System
, I share my inspired, health conscious recipes.
True to the spirit of an Honour System, you set the rules, and only you can decide how to follow them. As for me, eating REAL food is the only rule. I try to avoid processed, packaged, chemically enhanced 'food' and focus on the freshness and quality of my ingredients.
The goal is to treat yourself but don't cheat yourself.
Latest posts by Sharon Rhodes (see all)